WordPress Plugins
What is Woo Commerce can be the answer to adding an online store to your WordPress website, you can install and activate this plugin absolutely free. All you need is a WordPress website, a domain name, and an SSL certificate, you are able to sell affiliate products, physical products, and even digital products without spending a dime.
How To Add WordPress Plugins
You can easily install and activate this WordPress plugin simply by going to your dashboard and scroll down to plugins, and from there you just go to add plugins and you type in Woo Commerce in the search box to be taken to where you need to go.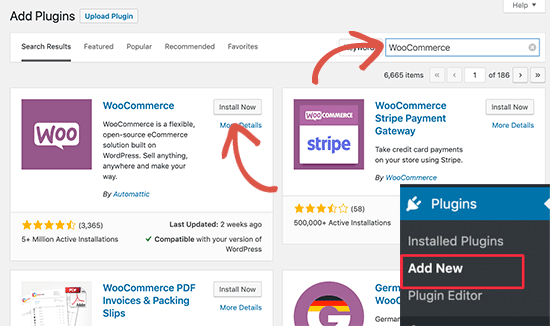 All you do next is to click on install now, and you are on your way to adding your own online store to your website, and after the plugin is installed you just click on activate and then the setup wizard will provide you with step-by-step instructions.
Store location
Currency
Product Types
You have just completed your first step with the setup wizard, you will click save or let's go button to be taken to step two.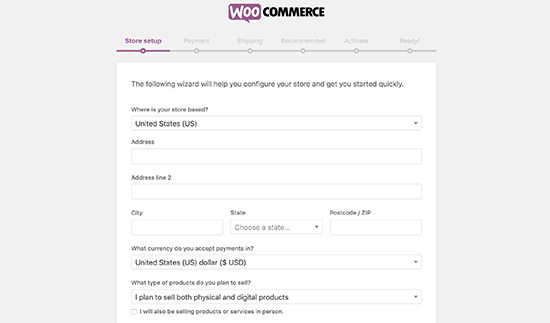 Step two you will want to set up your payment settings, you can go with the default settings which are PayPal and Stripe. If you are using this as an affiliate store this option will not affect you, but it is very easy to add this later you just click on them to activate them. You will need to signup for a PayPal account and Stripe account if you wish to use these payment settings in the future, so this is something to consider before going to the next step.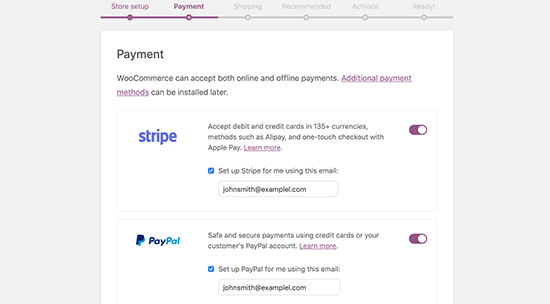 The next step again you can skip if you are only going to promote affiliate products, you will find this step to be setting up your shipping. You can choose between free shipping and flat rate shipping, and if you go with flat shipping you will have to set it up for different zones.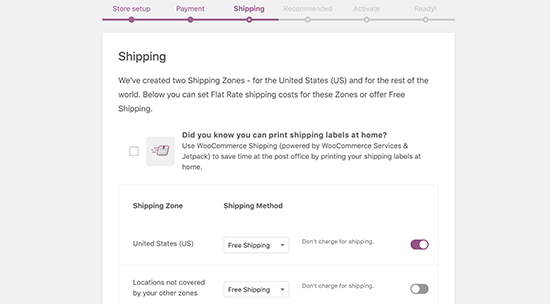 Next, the wizard will take you to install recommended services, I usually skip this step for now and install them later if and when I need them. You will need to uncheck all the services before going to the next step, you will find if you are interested in only promoting affiliate products on your website you won't use any of these services.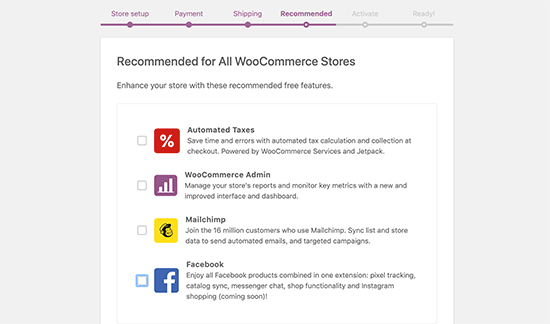 The wizard will ask you next to install the Jetpack plugin, but if you don't want to use this plugin you can skip this step the choice is up to you. Some people like this plugin and some people prefer another plugin, but I am using this plugin and I have not experienced any problems. If you want to take the time to research alternative plugins that is an option you can do, so to skip this step you scroll down until you see the skip this step option.

Guess what, you have just completed the wizard set up and you are ready to start adding products to your store. You have just added your WordPress online store to your website, and what I love the most about this plugin is it creates all your pages for you.
Adding Your Store Products
Adding affiliate products is a piece of cake with Woo Commerce, you just go to your dashboard and scroll down until you see add products, you will love how easy and quickly you can add your products with this plugin.
The first step you want to do is add your product title, and then what I do is add my product image. I find doing it this way is just easier for me, but you can add your product image last if that is easier for you.
Your next step is to provide your product description sections, you will find the top section is your long description, and if you scroll down you will find your short product description section. Since the short product section is what people will see beside your product image I do this first, I do my best to add the features that will get my customer's attention to click my learn more button. Your button will be right below your short description, and you can label your button anything you desire. I have experienced more interest when using learn more, but many of you might prefer to use buy now, but you can label your button anything you desire.
As for my long description, I just add any additional product information I feel might be interesting to my potential customer. When possible I will add any product reviews in this section which will be found if your customers scroll down your product page, you will find adding product reviews often encourages people to scroll back up and click your button.
Product Information Section
This is the most important section you want to take your time filling out, you will find it is not complicated especially for an affiliate product store. You just want to be sure you choose the right settings and information, and after a few products, you will become a pro.
The first thing I do is click the dropdown menu with simple products showing, and you will want to choose your product type, you will want to choose an external link if you are promoting affiliate products. Simple products are products with no variables of your physical products, you also have variable products, and digital products to choose from.
Product Button
Your next step will be your product button after you choose your product type, you will just add your product URL for your affiliate products and name your button whatever you like. The default name is Buy Button, so if that suits you all you need to do is add your URL and your button is ready to go.
Inventory
Shipping
Linked products
Attributes
Advanced
Get more options
The product sections above in the bullet points are not needed when promoting affiliate products, but if you are doing drop shipping you will need to set up this information.
Virtual Vs Downloadable
You will want to check either the virtual or downloadable box whichever fits your product type, you will check the virtual box for affiliate products and downloadable products obviously you check for digital products.
Add your product price regular and sales if it applies
If you are promoting free affiliate programs you will need to list them this way $0.00
Adding Your Product Images
You will find you can add your product image or images to the right of your products page, you will want to add your product image to the product featured image which will be your main image. If you happen to have more than one image you will add those to your product gallery, you will find this right under your featured or main image section.
Above your featured image you will see your product category section, you can add category sections for your product which is recommended for the convenience for your shoppers as well as search engine optimization.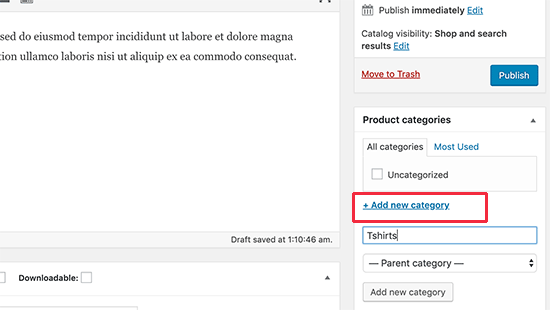 Before You Publish
You should review your sections and preview before you publish, you will find many times you will notice things you want to change before publishing. If you are happy with what you see you are ready to publish now.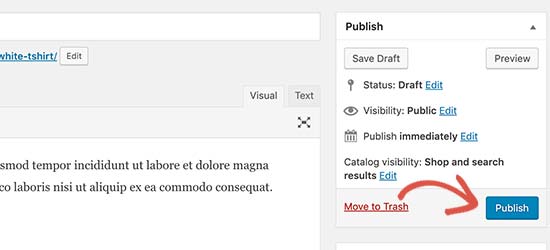 What Is Woo Commerce
Now you should be able to follow these steps to add an online store to your WordPress website, I had not planned on writing this post at this time but I received a request from one of my readers who is interested in adding a store for Black Friday. Even though this was short notice, I always do my best to provide what my readers are interested in.
WordPress Themes
You will notice my WordPress theme with Woo Commerce created my store more like a page than a storefront, you can check out what I am talking about by viewing my best high-paying affiliate programs page. If you have your heart set on a storefront page here are some themes recommended by WordPress.
Astra
Extra by elegant themes
Shoppe
Ultra
ProShop
Woo Commerce Extensions
Woo Commerce Memberships
Woo Subscriptions
Live Chat
Jilt
Yotpo
UPS Shipping Method
Shipment Tracking
FedEx
Woo Commerce Points & Rewards
Cart Add Ons
These extensions range from free and up, so you can shop for Woo Commerce extension for which ones fits your present budget.
What Is On My Mind Today
Woo Commerce is your best option for how to start an online store with no money I have found, I have used this for years on several websites without ever experiencing any problems. This is a great alternative to Shopify when you already own a WordPress website with traffic and believe me, I do love Shopify but this really is the best way to go. Why add another website to promote when you can just add a store to the site you already have, so I hope you found this article interesting and if you need assistance feel free to contact me.
Thank You for visiting Mentoring With Jeff